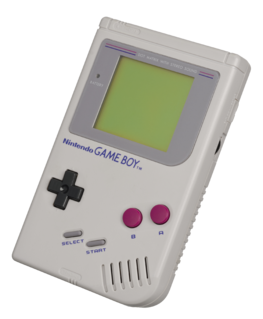 I can remember being at a summer day camp or something, and one of the other kids had a Game Boy. I think it was sometime before we actually got one ourselves. This was probably summer 1989, which is when the Game Boy was released in the US. If I remember right, the kid had Super Mario Land (which I never owned).
I'm not sure if it was around then, or later on but we got a Game Boy that year.
I didn't have nearly as many GB games as NES or SNES games. But I still loved the games I had.
I of course had Tetris, which I probably played more than any other game on the system except maybe Super Mario Land 2. Unfortunately I never got Link's Awakening, but back then I had to rely on other people to buy me games. I believe I had a copy of the DX GBC version much later on (when I had a GBA) though I think it got lost somewhere when I was moving.
Like with the other systems, a lot of the games I played were borrowed or rented. I remember a game called Motocross Maniacs by Konami, I would take my GB to school and play it.  Which got me yelled at by the teachers, but I didn't care what they thought lol.
The Game Boy was the first in a long line of super successful portable systems by Nintendo, it never mattered that the competition had color screens or better graphics. My friend had a Game Gear and I don't think he ever had anything besides whatever Sonic game came with it. BTW I think that's still the only Sonic game I've ever played.
I was never able to get any of the revisions of the system, I only ever had the original. I wanted a GBC when it came out, but like usual didn't have the money at the time. I did have a GBA and and later an SP but that was a new system completely.
The Game Boy, despite it's weaker hardware, was an awesome system. With a LOT of great games. Like I said earlier, the competition's "better" hardware never stood a chance. They either didn't have the games, or had horrible battery life that made them harder to actually use as portable systems.
It started a trend, where competitors would bring out more powerful systems to compete against Nintendo's portables and they would consistently fail to beat them. That continues today, with the 3DS.
I loved that weak little system with its green-toned screen.